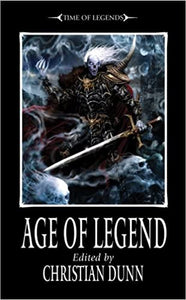 Age of Legend by Christian Dunn
"An anthology of original short stories based on the heroes of the Warhammer Fantasy Time of Legends

Original short stories from some of the best fantasy writers in the Black Library.  Themed on the early history of the Warhammer fantasy world, The Time of Legends is when heroes roamed the old world - both good and bad."
Mass market, minor wear, very light cover crease, binding tight, pages bright, a very nice copy!