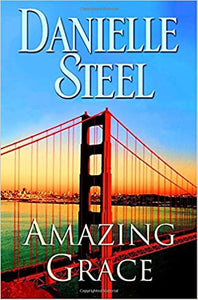 Amazing Grace by Danielle Steel
"On a warm May night in San Francisco, the Ritz-Carlton ballroom shimmers with crystal and silver as a glittering, celebrity-studded crowd gathers for a charity dinner dance. The evening is perfect–until, just minutes before midnight, the room begins to sway. Glass shatters. And as the lights go out, people begin to scream….

In the earthquake's aftermath, the lives of four strangers will converge.… Sarah Sloane, the beautiful wife of a financial whiz, watches her perfect world fall to pieces…. Grammy-winning singer Melanie Free, the event's headliner, comes to a turning point in her life and career…. Photographer Everett Carson, a former war correspondent whose personal demons have demoted him to covering society parties, finds new purpose amid the carnage…and Sister Maggie Kent, a nun who normally works in jeans and high-tops with the homeless, searches through the rubble–and knows instantly that there is much work to be done….

As the city staggers back to life, a chain reaction of extraordinary events will touch each of the survivors.… For Sarah, it begins with the discovery of a crime and a betrayal, then a strength she never knew she had. For Melanie, volunteering at a refugee camp will open new worlds of possibility. And Everett will be shaken by the unlikely relationship he forges with Maggie, who helps him rebuild his shattered life–and upends her own in the process. But as a year passes, and the anniversary of the earthquake approaches, more surprises are in store–as each discovers the unexpected gifts in a tragedy's wake…and the amazing grace of new beginnings."

Hardcover in dust jacket, minor wear, binding tight, pages bright, a very nice copy!