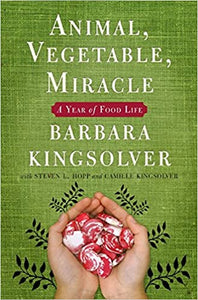 Animal, Vegetable, Miracle by Barbara Kingsolver
"Hang on for the ride: With characteristic poetry and pluck, Barbara Kingsolver and her family sweep readers along on their journey away from the industrial-food pipeline to a rural life in which they vow to buy only food raised in their own neighborhood, grow it themselves, or learn to live without it. Their good-humored search yields surprising discoveries about turkey sex life and overly zealous zucchini plants, en route to a food culture that's better for the neighborhood and also better on the table. Part memoir, part journalistic investigation, Animal, Vegetable, Miracle makes a passionate case for putting the kitchen back at the center of family life and diversified farms at the center of the American diet."
Hardcover in dust jacket, little to no wear, binding tight, pages bright, a very nice copy!