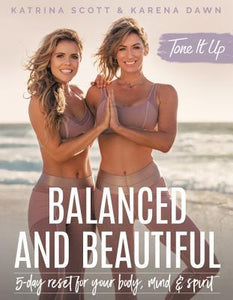 Balanced and Beautiful: 5-Day Reset for Your Body, Mind & Spirit by Katrina Scott and Karena Dawn
"Hey Gorgeous!

Welcome to Tone It Up, a worldwide community of amazing girlfriends who support and encourage each other to live our happiest, healthiest lives. As women, we so often focus on others, but a balanced and beautiful life means prioritizing yourself so you can truly be the version of you. The best way to do that is by combining a nutritious diet, active lifestyle, and most importantly, by spreading positivity and boosting each other up. Whether you're sharing workouts or wine, female friendship is so important—plus it makes fitness a lot more fun!

BALANCED AND BEAUTIFUL is a guide to focusing on the amazing woman that is you, with a 5-day plan to Refresh, Motivate, Inspire, Energize, and last but not least, Relax. Filled with daily fitness routines, delicious recipes, wisdom to transform your mindset, and all the love and advice of the TIU community, Karena and Katrina make it easier than ever to reach your goals and feel great. Each day, you'll find tips and advice for every aspect of your journey, told through fun and fascinating stories and secrets that will be like having your best girlfriend along for the ride. Throughout these pages, you'll feel empowered, uplifted, and connected—with the entire TIU community behind you, cheering you on towards your most confident, centered self."
Brand new hardcover in dust jacket!