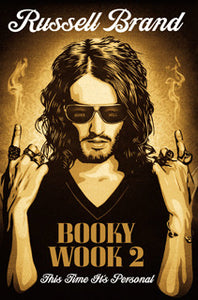 Booky Wook 2: This Time It's Personal by Russell Brand
"Picking up where he left off in My Booky Wook, movie star and comedian Russell Brand details his rapid climb to fame and fortune in a shockingly candid, resolutely funny, and unbelievably electrifying tell-all: Booky Wook 2. Brand's performances in Arthur, Get Him to the Greek, and Forgetting Sarah Marshall have earned him a place in fans' hearts; now, with a drop of Chelsea Handler's Chelsea Chelsea Bang Bang, a dash of Tommy Lee's Dirt, and a spoonful of Nikki Sixx's The Heroin Diaries, Brand goes all the way—exposing the mad genius behind the audacious comic we all know (or think we know) and love (or at least, lust)."
Hardcover in dust jacket, little to no wear, binding tight, pages bright, a very nice copy!