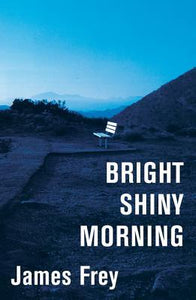 Bright Shiny Morning by James Frey
"One of the most celebrated and controversial authors in America delivers an extraordinary novel—a sweeping chronicle of contemporary Los Angeles that is bold, exhilarating, and utterly original. Dozens of characters pass through the reader's sight lines—some never to be seen again—but James Frey lingers on a handful of LA's lost souls and captures the dramatic narrative of their lives. A dazzling tour de force, Bright Shiny Morning illuminates the joys, horrors, and unexpected fortunes of life and death in Los Angeles."
Hardcover in dust jacket, light wear from use, binding tight, pages beginning to tan, a very nice copy!