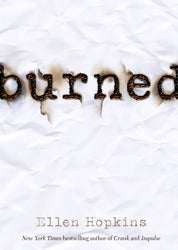 Burned by Ellen Hopkins
"Raised in a religious -- yet abusive -- family, Pattyn Von Stratten starts asking questions -- about God, a woman's role, sex, love. She experiences the first stirrings of passion, but when her father catches her in a compromising position, events spiral out of control. Pattyn is sent to live with an aunt in the wilds of Nevada to find salvation and redemption. What she finds instead is love and acceptance -- until she realizes that her old demons will not let her go."
Softcover, minor wear, light spine crease, binding tight, pages bright, a very nice copy!