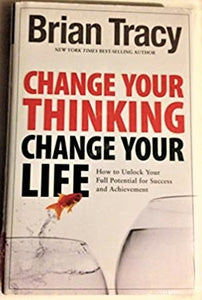 Change Your Thinking Change Your Life: How to Unlock Your Full Potential for Success and Achievement by Brian Tracy
"As long as you're going to think anyway, why not think the kinds of thoughts that can bring you wealth, success, and happiness? Best-selling author, CEO, and in-demand motivational speaker Brian Tracy offers you twelve life-changing principles that can help you:
Harness the power of self-confidence to completely transform your life
Eliminate negativity and focus on what is really important to your future
Dramatically increase your income and unlock your true potential
Live a happier and more satisfying life
What are you waiting for? It's never too late -- or too soon -- to Change Your Thinking, Change Your Life!"
Hardcover in dust jacket, little to no wear, binding tight, pages bright, a very nice copy!