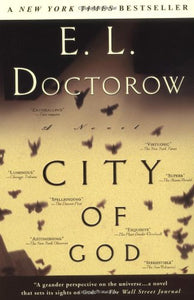 City of God by E. L. Doctorow
"
The crowning achievement of 
E. L. Doctorow's distinguished literary career--an astonishing modern masterwork of faith, mystery, and the search for spiritual authenticity.
With brilliant and audacious strokes, the author of Ragtime and Billy Bathgate creates a breathtaking collage of memories, events, visions, and provocative thought, all centered on the idea of a modern reality of God. At the heart of this stylistically daring and dazzling inventive tour-de-force is a riveting detective story about a cross that vanishes from a Lower-East-Side church, only to reappear on the roof of an Upper-West-Side synagogue. Intrigued by the mystery--and by the Episcopal priest and female rabbi who investigate the strange desecration--is a well-known novelist whose capacious brain is a virtual repository for the ideas and disasters of the age.
Employing a multi-voiced narrative that perfectly captures the riffs and rhythms of latter-day New York, then broadens to implicate a cast of characters including scientists, war veterans, prelates, Holocaust survivors, cabinet members, theologians, filmmakers, and crooners, City of God is E. L. Doctorow's most ambitious and intensely personal work. Vast in scope, biblical in tone, it is a monumental work of spiritual reflection, philosophy, and history by America's preeminent novelist and chronicler of our time."
Softcover, minor wear, binding tight, pages bright, a very nice copy!