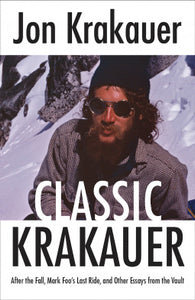 Classic Krakauer: Essays on Wilderness and Risk by Jon Krakauer
"His pieces take us from a horrifying avalanche on Mount Everest to a volcano poised to obliterate a big chunk of Seattle; from a wilderness teen-therapy program run by apparent sadists to an otherworldly cave in New Mexico, studied by NASA to better understand Mars; from the notebook of one Fred Beckey, who catalogued the greatest unclimbed mountaineering routes on the planet, to the last days of legendary surfer Mark Foo.

Bringing together work originally published in such magazines as The New Yorker, Outside, and Smithsonian—all rigorously researched, vividly written, and marked by an unerring instinct for storytelling and scoop—Classic Krakauer powerfully demonstrates the author's ambivalent love affair with unruly landscapes and his relentless search for truth."
Softcover, minor wear, binding tight, pages bright, a very nice copy!