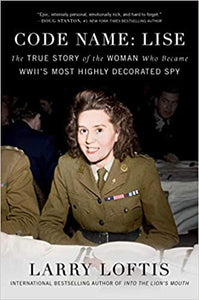 Code Name: Lise: The True Story of the Woman Who Became WWII's Most Highly Decorated Spy by Larry Loftis
"The year is 1942, and World War II is in full swing. Odette Sansom decides to follow in her war hero father's footsteps by becoming an SOE agent to aid Britain and her beloved homeland, France. Five failed attempts and one plane crash later, she finally lands in occupied France to begin her mission. It is here that she meets her commanding officer Captain Peter Churchill.

As they successfully complete mission after mission, Peter and Odette fall in love. All the while, they are being hunted by the cunning German secret police sergeant, Hugo Bleicher, who finally succeeds in capturing them. They are sent to Paris's Fresnes prison, and from there to concentration camps in Germany where they are starved, beaten, and tortured. But in the face of despair, they never give up hope, their love for each other, or the whereabouts of their colleagues."

Hardcover in dust jacket, minor wear, binding tight, pages bright, a very nice copy!