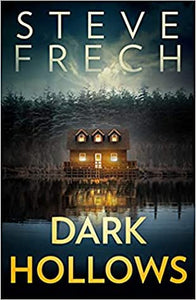 Dark Hollows by Steve Frech
"Jacob Reese
 enjoys the quiet life, running a coffee shop and renting out his cottage in The Hollows, Vermont. 
But the calm is shattered when a woman who looks eerily similar to his ex-girlfriend
Laura
turns up to stay in the cottage, and leaves a mysterious note in the guest book.
Now Jacob's seeing Laura everywhere―a glimpse of her face across the street, her music box left outside his house, a gift he gave her years before hanging from the trees.
But it can't be Laura. Because Laura's dead.
Someone knows Jacob's secret―what really happened the night Laura died―and they're out for revenge…"
Softcover, minor wear, binding tight, pages bright, a very nice copy!