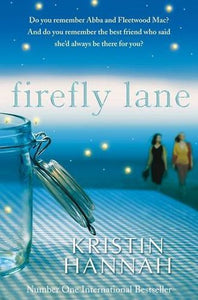 Firefly Lane by Kristin Hannah
"In the turbulent summer of 1974, Kate Mularkey has accepted her place at the bottom of the social food-chain at school. Then, to her amazement, the 'coolest girl in the world' moves in across the street and wants to be her friend. Tully Hart seems to have it all -beauty, brains, ambition. On the surface they are as opposite as two people can be, but they make a pact to be best friends forever, by summer's end they've become TullyandKate. Inseparable.

For thirty years Tully and Kate buoy each other through life, weathering the storms of friendship, jealousy, anger, hurt and resentment. Tully follows her ambition to find fame and success. Kate knows that all she wants is to fall in love and have a family but what she doesn't know is that being a wife and mother will change her. They think they've survived it all until a single act of betrayal tears them apart and puts their courage and lifelong friendship to the ultimate test."
Softcover, little to no wear, binding tight, pages bright, a very nice copy!