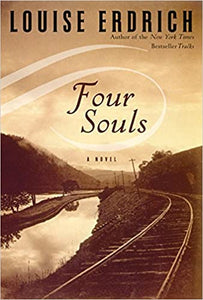 Four Souls by Louise Erdrich
"After taking her mother's name, Four Souls, for strength, the strange and compelling Fleur Pillager walks from her Ojibwe reservation to the cities of Minneapolis and Saint Paul. She is seeking restitution from and revenge on the lumber baron who has stripped her tribe's land. But revenge is never simple, and her intentions are complicated by her dangerous compassion for the man who wronged her."
Hardcover in dust jacket, minor wear, remainder mark on top text block, binding tight, pages bright, a very nice copy!