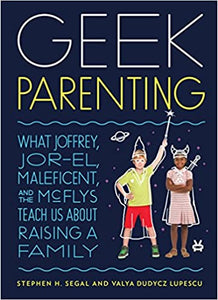 Geek Parenting: What Joffrey, Jor-El, Maleficent, and the McFlys Teach Us About Raising a Family by Stephen H. Segal & Valya Dudycz Lupescu
"It takes a starship to raise a child. Or a time machine. Or a tribe of elves. Fortunately, Geek Parenting offers all that and more, with thoughtful mini-essays that reveal profound child-rearing advice (and mistakes) from the most beloved tales of geek culture. Nerds and norms alike can take counsel from some of the most iconic parent–child pairings found in pop culture: Aunt May and Peter Parker, Benjamin and Jake Sisko, Elrond and Arwen, even Cersei and Joffrey. Whether you're raising an Amazon princess, a Jedi Padawan, a brooding vampire, or a standard-issue human child, Geek Parenting helps you navigate the ion storms, alternate realities, and endless fetch quests that come with being a parent."
Brand new hardcover in dust jacket!