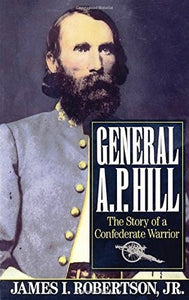 General A.P. Hill: The Story of a Confederate Warrior by James I. Robertson, Jr
"A Confederate general who ranks with Lee, Jeb Stuart, and Stonewall Jackson but whose achievements have been unfairly neglected until now, finally receives his due in this invaluable biography by a noted historian of the Civil War. Drawing extensively on newly unearthed documents, this work provides a gripping battle-by-battle assessment of Hill's role in Antietam, Fredericksburg, Gettysburg, and other battles. 8 pages of photographs."
Softcover, minor wear, scuffing to cover, binding tight, pages bright, a nice copy!