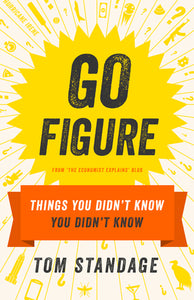 Go Figure: Things You Didn't Know You Didn't Know by Tom Standage
"Go Figure: Things You Didn't Know You Didn't Know brings together for the first time the very best explainers and charts, written and created by top journalists to help us understand such brain-bending conundrums as why almost half the population of Korea has one of two surnames, how bitcoin mining works, and the seasonal distribution of dog poo on the streets of New York. Subjects both topical and timeless, profound and peculiar, are explained with The Economist's trademark wit and verve.

The Economist Explains and its online sister, the Daily Chart, are the two most popular blogs on The Economist's website. Together, these online giants provide answers to the kinds of questions, quirky and serious, that may be puzzling anyone interested in the world around them. Want to know how a tattoo affects your job prospects, why bees are under threat, or even how different countries spend their money? We have the answers. They are sometimes surprising, often intriguing, and always enlightening."
Softcover, little to no wear, binding tight, pages bright, a very nice copy!