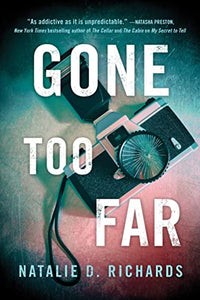 Gone Too Far by Natalie D. Richards
"Piper Woods can't wait to graduate and leave high school―and all its annoying cliques―behind. But when she finds a mysterious notebook filled with the sins of her fellow students, Piper is suddenly drowning in their secrets.
And she's not the only one who knows them. An anonymous text invites Piper to choose to punish the cheater, the bully, or the shoplifter. The popular kids with their dirty little secrets. With one text, Piper can make them pay.
But the truth can be dangerous..."
Softcover, minor wear, binding tight, pages bright, a very nice copy!