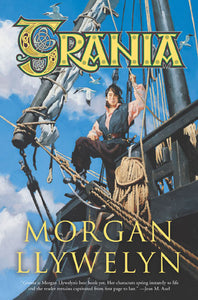 Grania by Morgan Llywelyn
"Here is an extraordinary novel about real-life Irish chieftain Grace O Malley. From Morgan Llywelyn, bestselling author of Lion of Ireland and the Irish Century novels, comes the story of a magnificent, sixteenth-century heroine whose spirit and passion are the spirit and passion of Ireland itself.

Grania (Gaelic for Grace) is no ordinary female. And she lives in extraordinary times. For even as Grania rises as her clan's unofficial head and breadwinner and learns to love a man, she enters a lifelong struggle against the English forces of Queen Elizabeth -- her nemesis and alter ego.

Elizabeth intends to destroy Grania's piracy and shipping empire--and so subjugate Ireland once and for all. But Grania, aided by Tigernan, her faithful (and secretly adoring) lieutenant, has no choice but to fight back. The story of her life is the story of Ireland's fight for solidarity and survival--but it's also the story of Grania's growing ability to love and be strong at the same time.

Morgan Llywelyn has written a rich, historically accurate, and passionate novel of divided Ireland -- and of one brave woman who is Ireland herself."
Softcover, minor wear, light lamination peeling, binding tight, pages bright, a very nice copy!