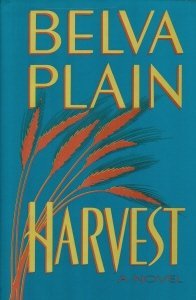 Harvest by Belva Plain
"Only one man knew the secret Anna Friedman vowed to carry to her grave. Only he could undo her perfect life, and he had kept his silence—and his distance—for years. Yet as she watched her daughter Iris marry and have her own family, Anna saw the slow corrosion of a lifetime of secrets seep into a new generation. Iris's "ideal" marriage was built on silence and lies . . . their rebellious son found his calling in anti–Vietnam War violence, fueled by rage. Anna's was the only voice that spoke to them all as she struggled to undo the damage of the past. Then powerful banker Paul Werner returned, opening old wounds, driven to help Anna and the family he barely knew.
 
From New York's luxurious suburbs to war-torn Israel, from Italian palazzi to California communes, Belva Plain's sweeping epic begun in Evergreen reaches its triumphant conclusion. Don't miss Belva Plain's other magnificent novels that feature the indomitable Werner family: Evergreen, The Golden Cup, and Tapestry."
Hardcover in dust jacket, minor wear, binding tight, pages bright, a very nice copy!