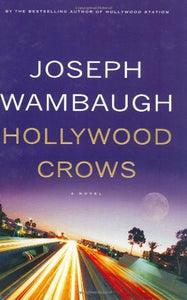 Hollywood Crows by Joseph Wambaugh
"When LAPD cops Hollywood Nate and Bix Rumstead find themselves caught up with bombshell Margot Aziz, they think they're just having some fun. But in Hollywood, nothing is ever what it seems. To them, Margot is a harmless socialite, stuck in the middle of an ugly divorce from the nefarious nightclub-owner Ali Aziz. What Nate and Bix don't know is that Margot's no helpless victim: the femme fatale is setting them both up. But Ms. Aziz isn't the only one with a deadly plan."
Hardcover in dust jacket, light wear from use, binding tight, pages bright, a very nice copy!