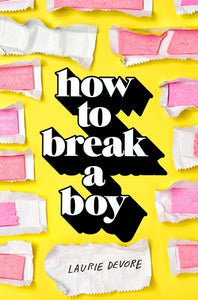 How to Break a Boy by Laurie Devore
"Olivia Clayton has mastered the art of tearing others down to stay on top. She and her best friend, Adrienne, rule their small southern town like all good mean girls do―through intimidation and manipulation.
Until Olivia suffers a family tragedy and catches Adrienne sleeping with her boyfriend. Olivia decides to make a change, but it's impossible to resist taking down Adrienne one last time. Up to her old tricks, Olivia convinces golden boy Whit Du Rant to be her SAT tutor and her fake boyfriend. But when it starts to feel real, Whit gets caught up in Olivia and Adrienne's war.
Olivia may ruin everything she touches, but she won't go down without a fight―not if it means losing Whit.
And definitely not if it means losing what's left of herself."
Brand new hardcover in dust jacket!