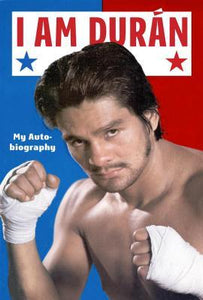 I Am Duran by Roberto Duran
"They called him "Manos de Piedra"—Hands of Stone—and he was one of the greatest boxers of all time. Now Roberto Durán tells his unbelievable story: from the streets of Panama to being crowned one of the "Four Kings," along with Hearns, Leonard, and Hagler, as he blazed a trail through the Golden Age of Boxing.

Born into abject poverty, barely able to read or write, Durán quickly realized that his fists could both protect him on the streets and put food on the table. His reputation was established on the day when, for a bet, he knocked down a horse with a single punch. At the age of twenty-one, he claimed his first world title, against Ken Buchanan at Madison Square Garden. The legend of Manos de Piedra was born, but his most glorious moment was yet to come.

In 1980, Durán delivered one of the greatest upsets in boxing history by defeating the previously unbeatable Sugar Ray Leonard. But greater fame brought greater distractions, and Durán's endless partying took its toll before the two superstars faced each other again. Here, for the first time ever, Durán confronts the debacle of the rematch that entered sporting folklore, and the truth behind the moment he was heard to utter the infamous words "No más"—No more.

Durán's explosive performances in the ring were matched only by the volatility of his life outside it. He lurched from living like royalty to bankruptcy and, after being written off as a boxing also-ran, made a bloody, legendary comeback that gave his career the ultimate ending, and finally brought redemption. He came from nothing, and changed the world. I Am Durán is the autobiography of one of boxing's most iconic legends."
Brand new hardcover in dust jacket!