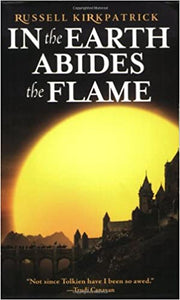 In the Earth Abides the Flame by Russell Kirkpatrick
"They have journeyed across the face of the world, but their quest is far from over. . .

Battered and bruised, suffering grievous loss, the Company enters the great city of Instruere. They have to warn the Council of Faltha of the Destroyer's threat -- but they have no idea of the depth of treachery that awaits them.

When the arrival of a disturbing stranger ignites political and religious tensions, events escalate beyond control. Only one thing could unite a land wracked with such mistrust. But can it be found? Or is the Jugom Ark merely a legend?"
Mass market, a nice copy!