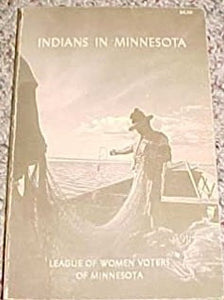 Indians in Minnesota by the League of Women Voters of Minnesota
"In Minnesota, the legacy of the American Indian people is reflected in many ways. Twenty-seven of the state's counties have names of Indian origin. The cities of Wabasha, Red Wing, and Shakopee are named for important Mdewakanton Dakota tribal leaders. With more than fifty-four thousand Indians currently living in Minnesota, their culture and values are well represented throughout the state.Characterized by a balanced perspective and a comprehensive approach, Indians in Minnesota provides a historical and contemporary account of Ojibwe and Dakota Indians living in both reservation and urban settings. Compiled from hundreds of enlightening interviews with tribal members, as well as data from the 2000 Minnesota Census and federal and state reports, the fifth edition of this well-known resource examines the significant changes and continuing needs of Indians in the twenty-first century. Exploring Indians' relationships with federal, state, and local governments—including the expansion of gaming and growing tribal sovereignty—this book includes extensive coverage of the status of Indian culture, natural resources, economic development, employment, education, social services, health, housing, and criminal justice issues. The authors also focus on central concerns facing Indians today, including widespread efforts to preserve sovereignty, culture, language, and reservations, and to build brighter futures for Indian men, women, and children."
Softcover, minor wear, light crease to corner cover, binding tight, pages bright, a very nice copy!