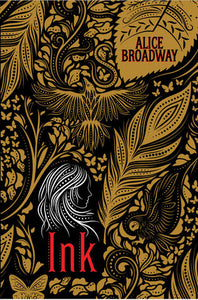 Ink by Alice Broadway
"
A deliciously dark, gorgeously written YA mystery that'll prickle your skin . . . and leave a permanent mark.
There are no secrets in Saintstone.From the second you're born, every achievement, every failing, every significant moment are all immortalized on your skin. There are honorable marks that let people know you're trustworthy. And shameful tattoos that announce you as a traitor. After her father dies, Leora finds solace in the fact that his skin tells a wonderful story. That is, until she glimpses a mark on the back of his neck . . . the symbol of the worst crime a person can commit in Saintstone. Leora knows it has to be a mistake, but before she can do anything about it, the horrifying secret gets out, jeopardizing her father's legacy . . . and Leora's life.In her startlingly prescient debut, Alice Broadway shines a light on the dangerous lengths we go to make our world feel orderly--even when the truth refuses to stay within the lines. This rich, lyrical fantasy with echoes of Orwell is unlike anything you've ever read, a tale guaranteed to get under your skin..."
Softcover, minor wear, binding tight, pages bright, a very nice copy!