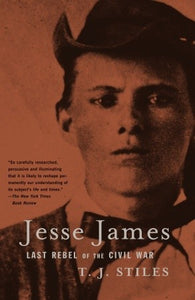 Jesse James: Last Rebel of the Civil War by T.J. Stiles
"In this brilliant biography T. J. Stiles offers a new understanding of the legendary outlaw Jesse James. Although he has often been portrayed as a Robin Hood of the old west, in this ground-breaking work Stiles places James within the context of the bloody conflicts of the Civil War to reveal a much more complicated and significant figure.

Raised in a fiercely pro-slavery household in bitterly divided Missouri, at age sixteen James became a bushwhacker, one of the savage Confederate guerrillas that terrorized the border states. After the end of the war, James continued his campaign of robbery and murder into the brutal era of reconstruction, when his reckless daring, his partisan pronouncements, and his alliance with the sympathetic editor John Newman Edwards placed him squarely at the forefront of the former Confederates' bid to recapture political power. With meticulous research and vivid accounts of the dramatic adventures of the famous gunman, T. J. Stiles shows how he resembles not the apolitical hero of legend, but rather a figure ready to use violence to command attention for a political cause—in many ways, a forerunner of the modern terrorist."
Softcover, minor wear, moisture stain on bottom text block, binding tight, pages bright, a nice copy!