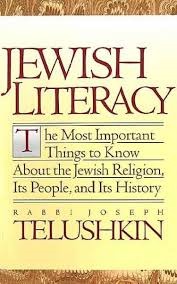 Jewish Literacy: The Most Important Things to Know About the Jewish Religion, Its People, and Its History by Rabbi Joseph Telushkin
"
In this insightful and completely updated tome, esteemed rabbi and bestselling author Joseph Telushkin helps answer the question of what it means to be a Jew, in the largest sense. Widely recognized as one of the most respected and indispensable reference books on Jewish life, culture, tradition, and religion, 
Jewish Literacy
 covers every essential aspect of the Jewish people and Judaism. In 352 short and engaging chapters, Rabbi Telushkin discusses everything from the Jewish Bible and Talmud to Jewish notions of ethics to antisemitism and the Holocaust; from the history of Jews around the world to Zionism and the politics of a Jewish state; from the significance of religious traditions and holidays to how they are practiced in daily life. Whether you want to know more about Judaism in general or have specific questions you'd like answered, 
Jewish Literacy
 is sure to contain the information you need."