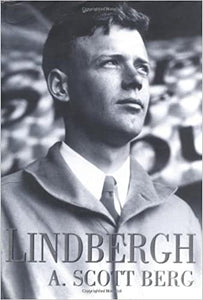 Lindbergh by A. Scott Berg
"From one of America's most acclaimed biographers, author of the bestselling lives of Maxwell Perkins and Samuel Goldwyn, here at last is the definitive life of one of the most legendary, controversial, and enigmatic figures in American history -- Charles A. Lindbergh.
From the moment he landed in Paris on May 21, 1927, Lindbergh found himself thrust upon an odyssey for which he was ill prepared -- the first modern media superstar, deified and demonized many times over in a single lifetime. Berg casts dramatic new light on the lonely, sometimes twisted childhood that formed his character; the astonishing flight and thrilling, then overwhelming aftermath; the controversies surrounding the trial of his son's accused kidnapper; the storm over Lindbergh's fascination with Hitler's Germany and over his active role in the isolationist America First movement; and his remarkable unsung work devoted to medical research, rocketry, anthropology, and conservation. At the heart of it all is his fascinating, complex marriage with Anne Morrow Lindbergh, a relationship far from the storybook romance the public imagined, one filled with sudden joy and bitter darkness, and which forged her into one of the century's leading feminist voices.
In all, this is a most compelling story of a most significant life: the most private of public figures finally revealed with a sweep and detail never before possible. In the skilled hands of A. Scott Berg, this is at once Lindbergh the hero -- and Lindbergh the man."

Hardcover in dust jacket, minor wear, previous owner name on front free endpaper and half title page, binding tight, pages bright, a nice copy!