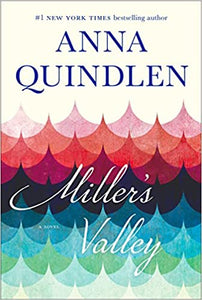 Miller's Valley by Anna Quindlen
"For generations the Millers have lived in Miller's Valley. Mimi Miller tells about her life with intimacy and honesty. As Mimi eavesdrops on her parents and quietly observes the people around her, she discovers more and more about the toxicity of family secrets, the dangers of gossip, the flaws of marriage, the inequalities of friendship and the risks of passion, loyalty, and love. Home, as Mimi begins to realize, can be "a place where it's just as easy to feel lost as it is to feel content."

Miller's Valley is a masterly study of family, memory, loss, and, ultimately, discovery, of finding true identity and a new vision of home. As Mimi says, "No one ever leaves the town where they grew up, even if they go." Miller's Valley reminds us that the place where you grew up can disappear, and the people in it too, but all will live on in your heart forever."

Hardcover in dust jacket, minor wear, light scuffing to jacket, binding tight, pages bright, a very nice copy!