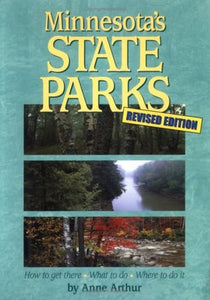 Minnesota's State Parks by Anne Arthur
"Minnesota's State Parks encompasses the full range of our environment, from lush woodlands, prairies and blufflands to rivers and lake shores. Each of these parks offer plenty of places to relax, explore and enjoy the outdoors. All the information you need to experience Minnesota's parks is in one volume! This book includes at least four pages of information on each park, maps of the parks and trails, tips for what to see and do and places to record your own notes."
Softcover, minor wear, pre-owned but unmarked, binding tight, pages bright, a very nice copy!