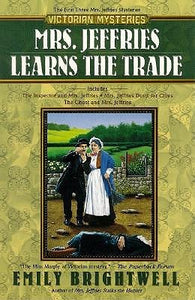 Mrs. Jeffries Learns the Trade by Emily Brightwell
"Everyone's awed by Inspector Witherspoon's Scotland Yard successes, but they don't know about his secret weapon. Her name is Mrs. Jeffries, and she keeps house for the Inspector - and keeps him on his toes. No matter how messy the murder or how dirty the deed, her polished detection skills are up to the task. Because as she knows all too well, a crimesolver's work is never done."
Softcover, minor wear, binding tight, pages bright, a very nice copy!