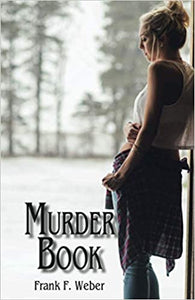 Murder Book by Frank F. Weber
"Jon Frederick spent his adolescence protecting his mentally ill brother and worrying about his parents' farm as it headed toward bankruptcy. So when Mandy Baker, the alluring new girl in town, pursued him, he was easily enamored. But on the day he ended their tryst, Mandy vanished. There is no doubt in the small Minnesota town of Pierz that the flirtatious girl is dead, and there is little doubt that Jon got away with murder.
A decade later, Jon is made an investigator with the Bureau of Criminal Apprehension. While investigating a case near his hometown, Jon quietly reopens the murder book on Mandy Baker and begins to see commonalities between Mandy's disappearance and his new case. Digging up the past raises intriguing possibilities with an old friend, Serena Bell―but also forces them to work through old betrayals. As the investigation intensifies, Jon realizes he has crossed paths with the killer before.
Frank Weber, a forensic psychologist, expertly examines the intricacies of investigations, victim impact, and predatory thought in his debut thriller."
Softcover, little to no wear, binding tight, pages bright, a very nice copy!