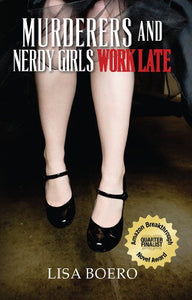 Murderers and Nerdy Girls Work Late by Lisa Boero, Signed
"Quarterfinalist, 2013 Amazon Breakthrough Novel Award - Liz Howe, an intrepid young law student and small town Wisconsin girl, triumphantly secures a plum spot as a summer associate at a prestigious St. Louis law firm. But Liz soon discovers that she has a few small problems: the body in the stairwell; the embezzlement at her firm; and the fact that the man she wants is engaged to someone else. And just how is she supposed to chase a murder suspect in heels? Minor details. Liz's real problem is much bigger. Neurological defects don't tend to make you popular, and she has a doozy. She can't recognize faces. Not even her own. Fortunately, this is exactly the thing to turn Liz into the likeliest of unlikely detectives. She pays attention to all of the other details that normal people miss. Need someone to guess an occupation by the movement of the hands? Need someone to recognize a person by smell? Need someone to figure out that those shoes were bought on clearance at Macy's last summer? Liz is your detective. Now she just has to harness her unusual skills to solve the case, expose the embezzlement, bring the murderer to justice and get the guy. Nothing a nerdy girl can't handle."
Softcover, minor wear, binding tight, pages bright, a very nice copy!