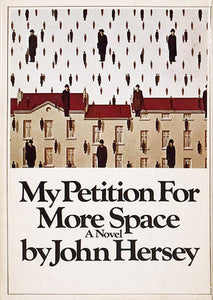 My Petition for More Space by John Hersey
"A street in New Haven. A line of people, blocks long, more closely packed than the rush-hour subways of the good old times. 
            Poynter has been on the line since before dawn, as are thousands of others, pressed together, waiting their turns at the window to present their individual petitions. His is for more space—a notion so preposterous that when it is discovered it shocks, reverberates down the line, almost triggering violent reactions. In front of Poynter, so tightly jammed against him that he can see no more than the side of her face, is a girl petitioning to change her job. And, locked together in this fearful proximity, they talk, explore their predicaments, and perhaps fall in love.
            My Petition for More Space chills by its glimpse of a world grown so crowded that dissent is an inconceivable crime and acquiescence the law of survival. Feelings of hope and fear, desire, anger, frustration erupt sporadically, sparked by the friction of numbers. Call it tonight's disturbing dream or a coldly logical scenario of things to come, John Hersey's taut novel stings the mind."
Hardcover in dust jacket, light wear from use/age, stated first edition, corner clipped from jacket, binding tight, pages bright, a very nice copy!