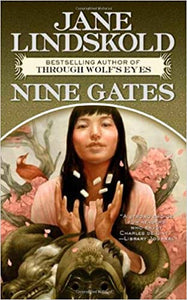 Nine Gates by Jane Lindskold
"As evocative and moving as Charles de Lint's Newford books, with the three-dimensional protagonists and enthralling action of Mercedes Lackey's fantasies,
Nine Gates
makes our world today as excitingly strange and unfamiliar as any fantasy realm . . .and transports readers to a wondrous magical world drawn from Chinese lore and legend.
Brenda Morris has barely had time to become accustomed to the idea that she has some of the powers of the Rat, a member of the Chinese Zodiac; that her elderly, former child-star "aunt," Pearl, is the Dragon; and that the young African-American former soldier she trains beside is the Dog.  Brenda has learned that our world is not the only world and that her not-quite-Chinese ancestors came from a magical place, the Lands of Smoke and Sacrifice, created thousands of years ago by the destruction of China's books and scholars during the time of the first Emperor.
Now, generations later, the Lands are once again at war, and the magics of the Thirteen Orphans are desperately needed.  A mission to capture those powers went disastrously wrong and now the Lands' Dragon, Tiger, Snake, and Monkey are trapped on Earth unless the Orphans can build the Nine Gates.  To do that, they must first save the Four Guardians of the land between, who are under magical attack.  Complicating things is the fact that Brenda has fallen hard for the handsome man who is the Tiger, much to the distress of the sensual young woman who is the Snake."
Mass market, a nice copy!