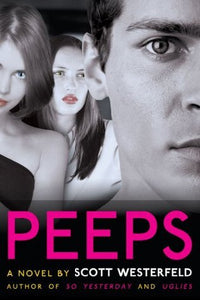 Peeps by Scott Westerfeld
"Last year as college freshman, narrator Cal was infected by exotic goth Morgan with a parasite that caused following girlfriends to become vampire-like ghouls he calls parasite-positives "Peeps". A carrier without symptoms, he hunts his progeny for the centuries old bureaucratic Night Watch. But victims are showing more sanity, pretty human Lacey is pushing his buttons, and her apartment building basement houses fierce hordes of ravening rats, red-eyed cats, and monstrous worms that threaten all. Morgan has the secret to a centuries-old conspiracy and upcoming battle to save the human race."
Softcover, minor wear, binding tight, pages bright, a very nice copy!