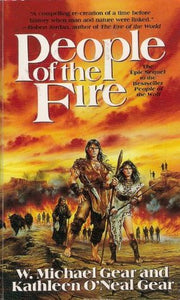 People of the Fire by Michael Gear and Kathleen O'Neal Gear
"It is a time of fire. A small band of pioneers struggle valiantly to keep their ancestors' dreams alive in an unforgiving, drought-stricken land. Driven by the promise of an awesome vision, a heroic young dreamer and a fearless woman warrior unite to lead their people to a magnificent destiny.

A towering epic filled with tragedy and triumph, courage and conflict, People of the Fire is the second compelling novel in a majestic saga of America's first peoples."
Mass market, ex-library with usual markings