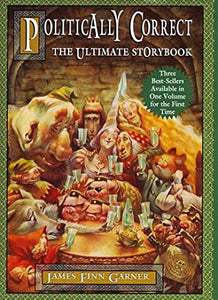 Politically Correct: The Ultimate Storybook by James Finn Garner
"Once upon a time, in the olden days, heavy-set middle-aged men would congregate in their elitist clubs, sit in overstuffed chairs, smoke cigars, and pitch story ideas and plots to each other. Problem was, these stories, many of which found their way into the general social consciousness were discriminatory, unfair, culturally biased and in general, demeaning to witches, animals, goblins, and fairies everywhere. Finally, after centuries of these abusive, imperialistic tales which have been handed down from one male-biased generation to the next, James Finn Garner has taken it upon himself (that's right, yet another man) to enlighten and liberate these classic bedtime stories and retell them in a manner that is positive and self-esteem building to women, minorities, the hearing impaired, the sight impaired, the differently-abled, gays, the third world, trees, shrubs, bushes, anorexics, bulemics, those in recovery, and spotted owls."
Hardcover in dust jacket, little to no wear, binding tight, pages bright, a very nice copy!