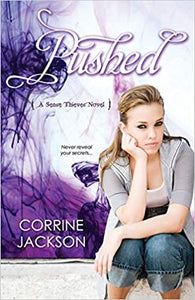 Pushed by Corrine Jackson
"Remy O'Malley was just learning to harness her uncanny healing power when she discovered the other, darker half of her bloodline. Now she lives trapped between two worlds, uneasy among her fellow Healers--and relentlessly hunted by the Protectors.

Forced to conceal her dual identity, and the presence of her Protector boyfriend Asher Blackwell, Remy encounters a shadow community of Healers who will put her loyalties to the test.

Pushed to the limit, with the lives of those she loves most on the line, Remy must decide whether to choose sides in a centuries-old war--or make the ultimate sacrifice and go to a place from which she may never return. . ."
Softcover, minor wear, binding tight, pages bright, a nice copy!