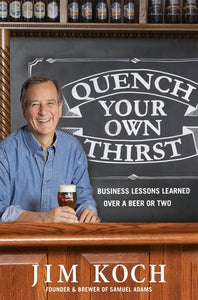 Quench Your Own Thirst: Business Lessons Learned Over a Beer or Two by Jim Koch
"Pull up a chair and crack open a Sam Adams. It's time to leave behind business as you know it.

Quench Your Own Thirst covers everything from finding your own Yoda to Koch's theory on how a piece of string can teach you the most important lesson you'll ever learn about business. Koch also has surprising advice on sales, marketing, hiring, and company culture. His anecdotes, quirky musings, and bits of wisdom go far beyond brewing. A fun, engaging guide for building a career or launchinga successful business, Quench Your Own Thirst is the key to the ultimate dream: being successful while doing what you love. So, are you quenching yourown thirst – or someone else's?"
Brand new hardcover in dust jacket!