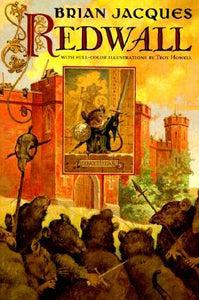 Redwall by Brian Jacques
"Welcome to Mossflower Wood, where the gentle mice have gathered to celebrate a year of peace and abundance. All is well…until a sinister shadow falls across the ancient stone abbey of Redwall. It is rumored that Cluny is coming—Cluny, the terrible one-eyed rat and his savage horde—Cluny, who has vowed to conquer Redwall Abbey! The only hope for the besieged mice lies in the lost sword of the legendary Martin the Warrior. And so begins the epic quest of a bumbling young apprentice—a courageous mouse who would rise up, fight back…and become a legend himself.
 
Perfect for fans of T. A. Barron's Merlin saga, John Flanagan's Ranger's Apprentice series, and J. R. R. Tolkien's Lord of the Rings series."
Softcover, minor wear, binding tight, pages bright, a very nice copy!