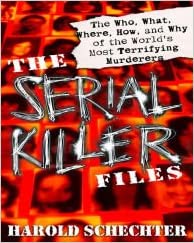 Serial Killer Files by Harold Schechter
"The Serial Killer FilesHarold SchechterTHE DEFINITIVE DOSSIER ON HISTORY'S MOST HEINOUS! Hollywood's make-believe maniacs like Jason, Freddy, and Hannibal Lecter can't hold a candle to real life monsters like John Wayne Gacy, Ted Bundy, Jeffrey Dahmer, and scores of others who have terrorized, tortured, and terminated their way across civilization throughout the ages. Now, from the much-acclaimed author of Deviant, Deranged, and Depraved, comes the ultimate resource on the serial killer phenomenon. Rigorously researched and packed with the most terrifying, up-to-date information, this innovative and highly compelling compendium covers every aspect of multiple murderers–from psychology to cinema, fetishism to fan clubs, "trophies" to trading cards."
softcover, minor wear, binding tight, pages bright, a very nice copy!