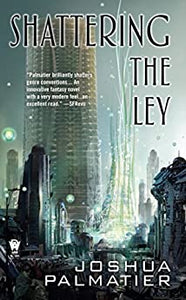 Shattering the Ley by Joshua Palmatier
"Erenthrall—sprawling city of light and magic, whose streets are packed with traders from a dozen lands and whose buildings and towers are grown and shaped in the space of a day.

At the heart of the city is the Nexus, the hub of a magical ley line system that powers Erenthrall. This ley line also links the city and the Baronial plains to rest of the continent and the world beyond. The Prime Wielders control the Nexus with secrecy and lies, but it is the Baron who controls the Wielders. The Baron also controls the rest of the Baronies through a web of brutal intimidation enforced by his bloodthirsty guardsmen and unnatural assassins.

When the rebel Kormanley seek to destroy the ley system and the Baron's chokehold, two people find themselves caught in the chaos that sweeps through Erenthrall and threatens the entire world: Kara Tremain, a young Wielder coming into her power, who discovers the forbidden truth behind the magic that powers the ley lines; and Alan Garrett, a recruit in the Baron's guard, who learns that the city holds more mysteries and more danger than he could possibly have imagined . . . and who holds a secret within himself that could mean Erenthrall's destruction -- or its salvation."
Mass market, ex-library with usual markings