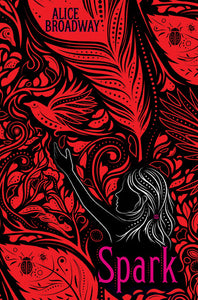 Spark by Alice Broadway
"
Alice Broadway returns with the stunning sequel to her international bestseller 
Ink!
After her reckless actions at the naming ceremony, Leora is branded a traitor and sent to the blank settlement, Featherstone, as a spy disguised as a refugee.But Leora is no longer sure where her loyalty lies. The blanks are just people trying to survive, not the monsters she was trained to see them as. After all these years of deception, Leora is finally learning the truth -- about being marked, about her mother, and about her own destiny. But if Leora stops spying, the people she left behind in Saintstone will pay the price.No matter what she does, someone she loves is going to get hurt. As the marked and the blanks inch closer to the brink of war, Leora must choose which half of herself to be true to . . . and which half to betray."
Hardcover in dust jacket, minor wear, binding tight, pages bright, a very nice copy!