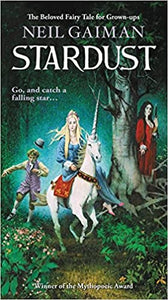 Stardust by Neil Gaiman
"Tristran Thorn promises to bring back a fallen star for his beloved, the hauntingly beautiful Victoria Forester—and crosses the wall that divides his English country town from another, more dangerous world of lords and witches, all of them in search of the star. Rich with adventure and magic, Stardust is one of master storyteller Neil Gaiman's most beloved tales."
Brand new mass market paperback!