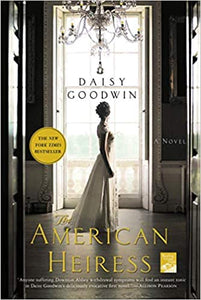 The American Heiress by Daisy Goodwin
"Be careful what you wish for. Traveling abroad with her mother at the turn of the twentieth century to seek a titled husband, beautiful, vivacious Cora Cash, whose family mansion in Newport dwarfs the Vanderbilts', suddenly finds herself Duchess of Wareham, married to Ivo, the most eligible bachelor in England. Nothing is quite as it seems, however: Ivo is withdrawn and secretive, and the English social scene is full of traps and betrayals. Money, Cora soon learns, cannot buy everything, as she must decide what is truly worth the price in her life and her marriage.

Witty, moving, and brilliantly entertaining, Cora's story marks the debut of a glorious storyteller who brings a fresh new spirit to the world of Edith Wharton and Henry James.

"For daughters of the new American billionaires of the 19th century, it was the ultimate deal: marriage to a cash-strapped British Aristocrat in return for a title and social status. But money didn't always buy them happiness." --Daisy Goodwin in The Daily Mail"

Softcover, little to no wear, binding tight, pages bright, a very nice copy!