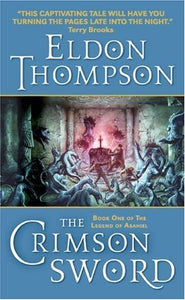 The Crimson Sword by Eldon Thompson
"The Age of Man has begun. The "undesirable" creatures of legend have been driven from their lands, magic has been forsaken, the old gods reduced to myth.Now humans will rule the kingdoms of the island continent of Pentania. But they are not alone.
Alson's king has been assassinated, its capital besieged by a malevolent wizard. The chaos and terror now sweeping the land have come to the remote village of Diln -- sending young Jarom far from his home to seek aid against the nefarious usurper. But a mysterious council has decreed Jarom must find one of the mythical Swords of Asahiel -- the divine talismans the elven avatars used to forge the earth -- in order to save a quarrelsome, fledgling humanity. For a Demon Queen has awakened from the abyss -- and humankind is about to discover its powerlessness in the face of the ancient terrors of the world."
Mass market, a nice copy!