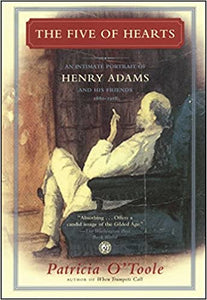 The Five of Hearts: An Intimate Portrait of Henry Adams and His Friends 1880-1918 by Patricia O'Toole
"The Five of Hearts, who first gathered in Washington in the Gilded Age, included Henry Adams, historian and scion of America's first political dynasty; his wife, Clover, gifted photographer and tragic victim of depression; John Hay, ambassador and secretary of state; his wife, Clara, a Midwestern heiress; and Clarence King, pioneering geologist, entrepreneur, and man of mystery. They knew every president from Abraham Lincoln to Theodore Roosevelt and befriended Henry James, Mark Twain, Edith Wharton, and a host of other illustrious figures on both sides of the Atlantic."
Softcover, little to no wear, binding tight, pages bright, a very nice copy!