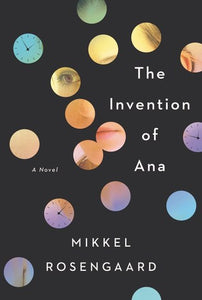 The Invention of Ana by Mikkel Rosengaard
"On a rooftop in Brooklyn on a spring night, a young intern and would-be writer, newly arrived from Copenhagen, meets the intriguing Ana Ivan. Clever and funny, with an air of mystery and melancholia, Ana is a performance artist, a mathematician, and a self-proclaimed time traveler. She is also bad luck, she confesses; she is from a cursed Romanian lineage.
Before long, the intern finds himself seduced by Ana's enthralling stories—of her unlucky countrymen; of her parents' romance during the worst years of Nicolae Ceaucescu's dictatorship; of a Daylight Savings switchover gone horribly wrong. Ana also introduces him to her latest artistic endeavor. Following the astronomical rather than the Gregorian calendar, she is trying to alter her sense of time—an experiment that will lead her to live in complete darkness for one month.
Descending into the blackness with Ana, the intern slowly loses touch with his own existence, entangling himself in the lives of Ana, her starry-eyed mother Maria, and her raging math-prodigy father Ciprian. Peeling back the layers of her past, he eventually discovers the perverse tragedy that has haunted Ana's family for decades and shaped her journey from the streets of Bucharest to the Atlas Mountains of Morocco and finally to New York City."
Brand new hardcover in dust jacket!